It's just the worst when you go on a trip abroad to let loose and have a good time, but then you get scammed.
Like it's not even always about the money but it's the fact that these scammers have no sense of ethics that just brings the vibe down.
I put together a list of the eight most common scams in Bali. Ranked from super sketchy to just kinda annoying. Also, some tips on how to avoid or handle them.
This one is like the absolute worst and can seriously drain your bank account. Basically, an ATM scam is where they steal your card info and use it for all kinds of shady stuff.
The way they do it is by putting this sneaky little metal plate thing in the card slot that can actually grab your card details without you even realizing it.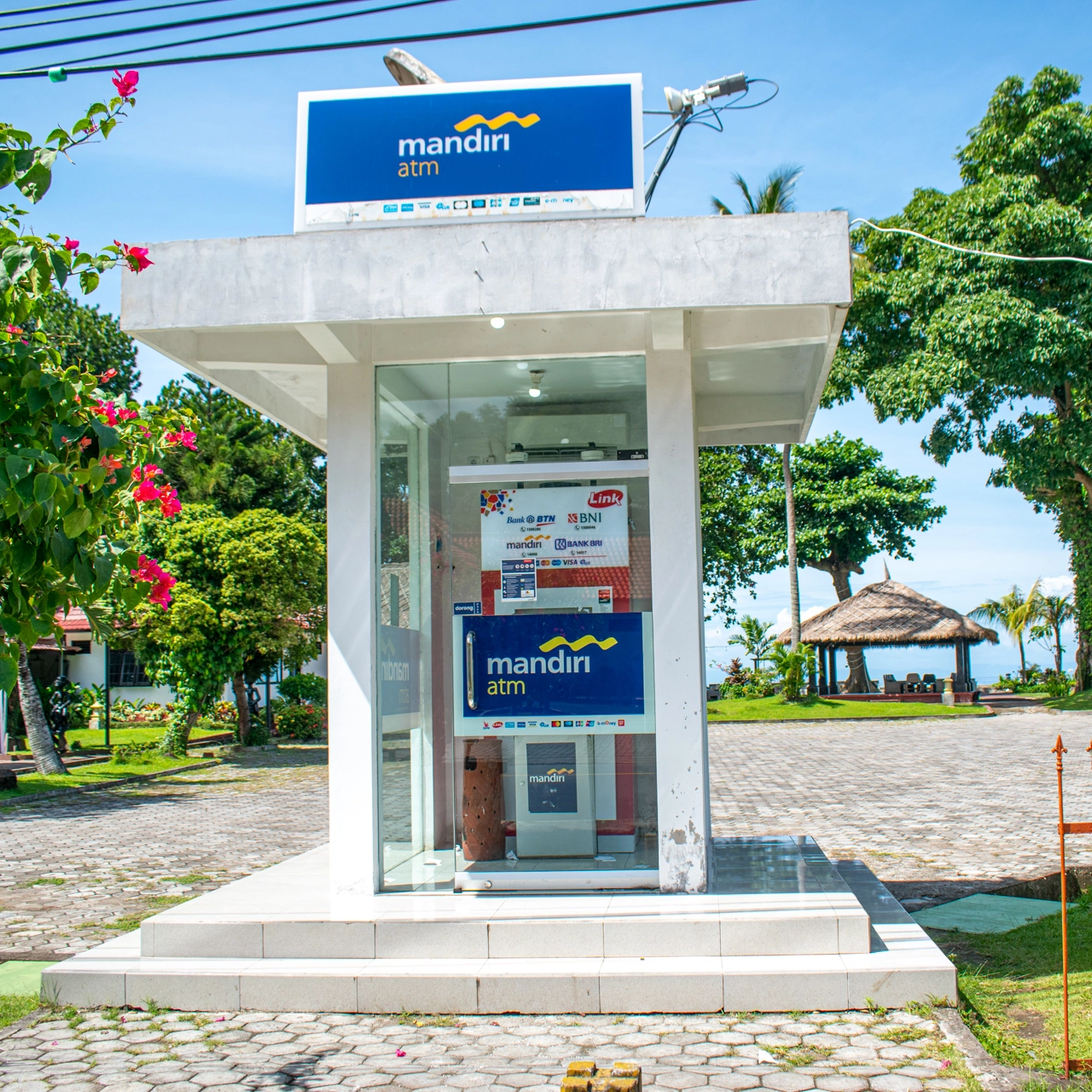 Beautiful street ATM in Bali
These scams usually go down at non-guarded ATMs that are just out in the open where anyone can mess with them without getting caught.
Tips to avoid ATM scam in Bali
So, to steer clear of this nightmare, I'd say skip those ATMs you see on the street altogether and just head to an actual bank to withdraw your cash. Trust me, it's way safer that way.
There are several major banks in Bali you can go to for secure ATM transactions that accept foreign cards: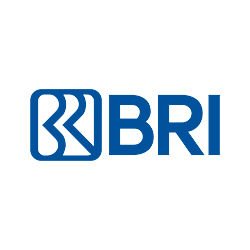 Bank Rakyat Indonesia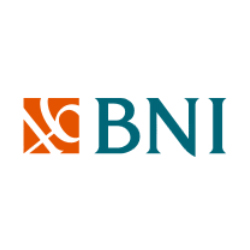 Bank Negara Indonesia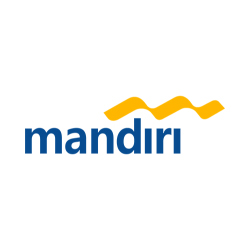 Bank Mandiri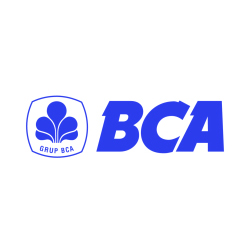 Bank Central Asia
Whether you're staying in Kuta, Ubud, or anywhere else in Bali, these major banks have branches scattered throughout the island, making it easy to find one near you.
A quick search on Google Maps should do the trick!
---
U B U D
The Valerian Villa Ubud
Ricefields view
Picnic area
Outdoor swiming pool
See more images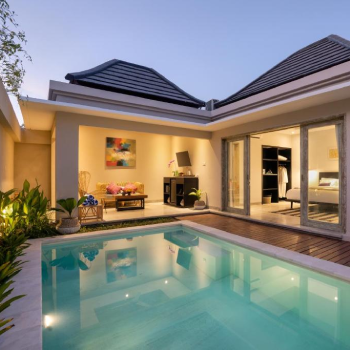 C A N G G U
La Numa Villas Canggu
Near the beach
Gorgeous bathroom
Private swiming pool
See more images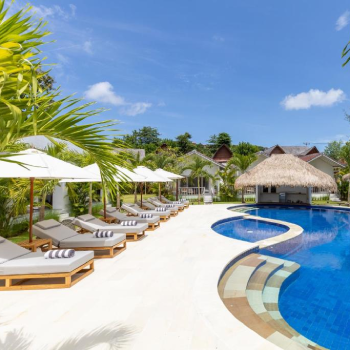 U L U W A T U
Jepun Sari Hotel Uluwatu
Near many beaches
Mountain & garden view
Outdoor swiming pool
See more images
---
The second-worst scam you might encounter in Bali is the bike rental scam, and it can definitely put a dent in your wallet.
There are two ways this one can go down:
They blame you for any pre-existing scratches or damage on the bike that was already there before you rented it
They steal the bike altogether while you're away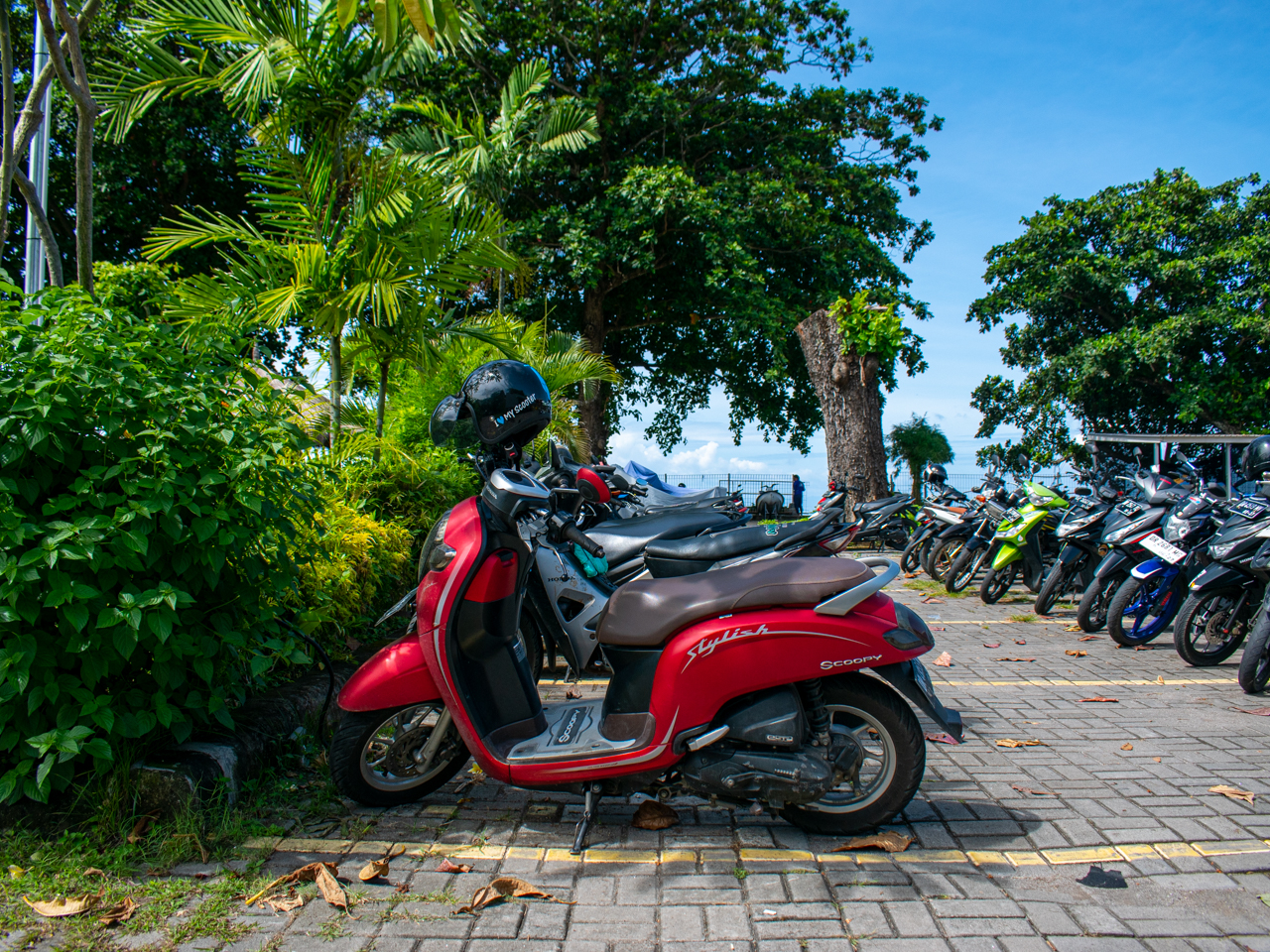 Parked bikes
The first scenario of the bike rental scam can end up costing you anywhere from tens to hundreds of dollars.
However, the second scenario is much more costly and could set you back one or two thousand dollars, as you'd be responsible for paying the full value of the bike itself.
Tips to avoid bike rental scam in Bali
Choose a high-rated bike rental company in the area. You should totally check out Bikago for renting bikes. They're a really good company and lots of people trust them.
Film the bike's condition right after you rent it. Film it from all angles to avoid being held accountable for any damage you didn't cause.
Buy a bike chain lock. The owner may use a spare key to steal the bike, but if you use something like a bike lock or chain lock, you can stop them from taking it.
The third tip is super helpful especially if you're renting the bike for a while. Don't count on your hotel to watch it for you cause there have been cases where bikes get stolen right from the hotel.
Bikago bike rental
Online booking & payment
Bike is delivered to you
No return needed
View bikes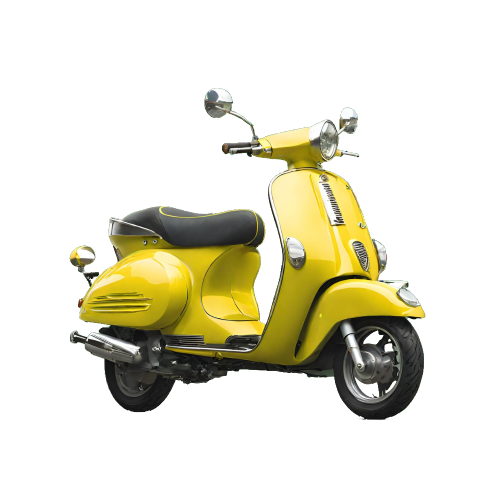 This money exchange scam isn't about the bad exchange rate they give you, but the sneaky ways their staff take some of your money when you're not paying attention.
This shady practice isn't just limited to sketchy currency exchange kiosks on the street, even authorized businesses can have bad staff who engage in such practices.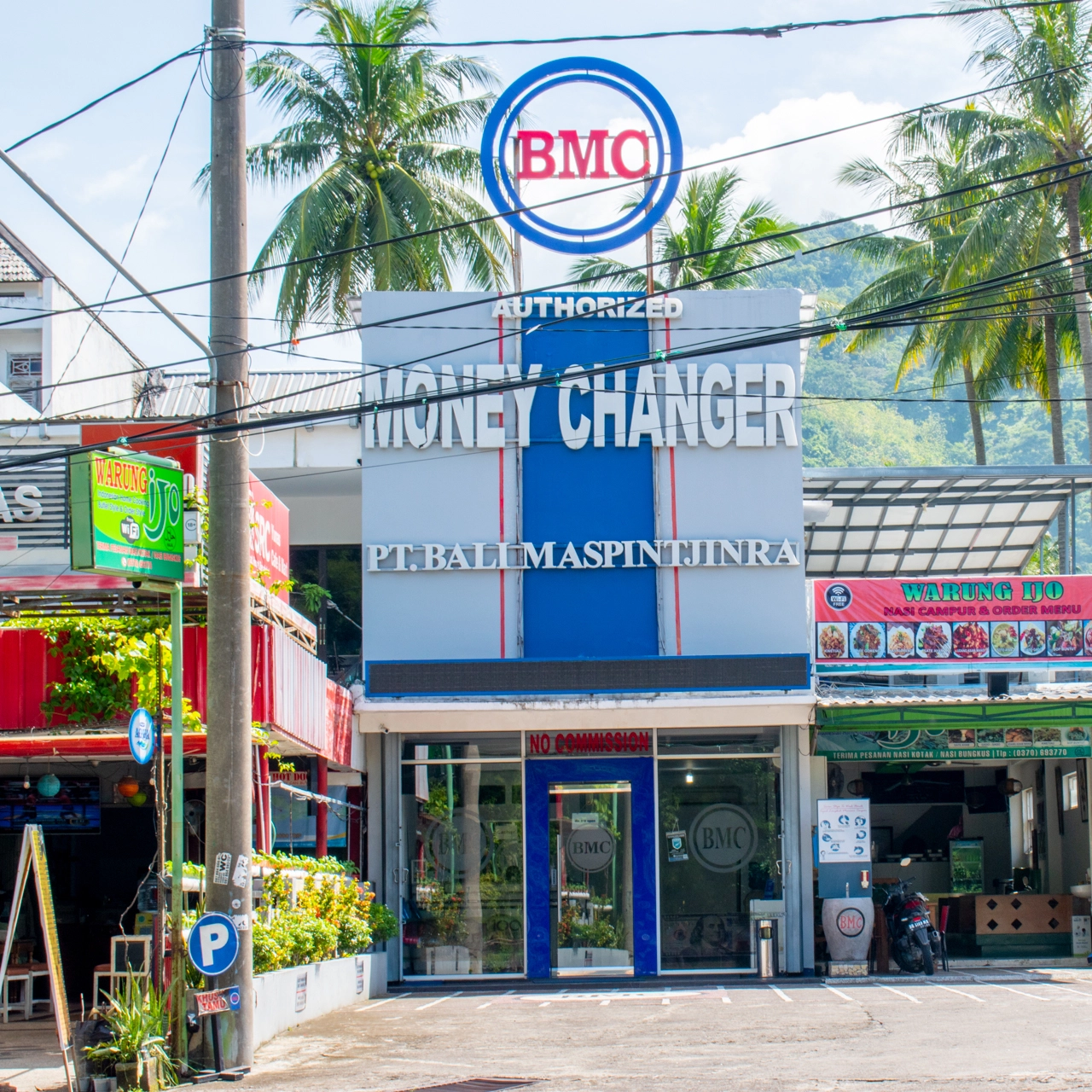 Authorized money changer
It's definitely a better idea to go to authorized currency exchanges because there's less of a chance of getting scammed. The authorized businesses have proper offices with professional-looking staff in office clothing.
On the other hand, sketchy currency exchanges usually operate out of small kiosks or shops, and their staff (or even the owner) doesn't look professional, like so obvious.
Note: Not all currency exchange kiosks are sketchy
Tips to avoid money exchange scam in Bali
Always go to authorized currency exchange businesses. This will decrease your chances of getting scammed. And in case you do end up getting scammed, you can always talk to the manager to report the bad staff.
Be the last who counts the money. Make sure to always count the money yourself before leaving, and don't take the money that has already been counted by the staff.
Here's another tip: if the staff takes some of your money as a "tip" for counting it, just cancel the exchange and go somewhere else.
Legit money exchange places don't charge commissions, so it's definitely just the shady staff trying to rip you off. If they want to keep their business running, they'll call you back to make the deal right.
Also, don't believe the high rate they offer, it's just the way to get you to come and trick you. No business makes profit doing so.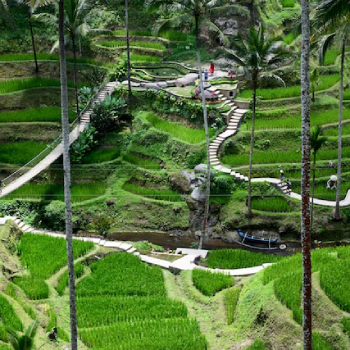 🔥 Popular
Best of Ubud tour
An all-inclusive day tour exploring the most popular attractions in Ubud!
Check availability
Taxi scams in Bali are unfortunately all too common, and it's a topic that often comes up among tourists. Many people have reported being charged much more than the usual fare.
There are several common tricks used by taxi scammers in Bali, including:
Taking a longer route to charge you more
The meter runs too fast
Not having a taximeter and charging you a lot of money
Forgetting to turn on the meter and charging you more than the normal fare
Having a broken meter
There are typically three groups of people who engage in scamming:
Airport taxi drivers • People who aggressively offer services to tourists at the airport
Taxi mafia • People who control a specific territory and don't allow other taxis to operate there
Copycats • Taxis that imitate a well-known taxi company
Tip to avoid taxi scam in Bali
A great way to steer clear of taxi scams in Bali is to use a ride-hailing app. You have three options to choose from: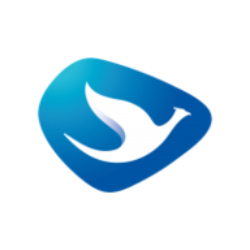 Bluebird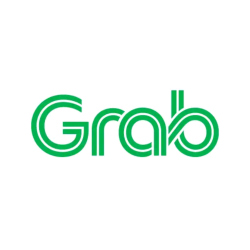 Grab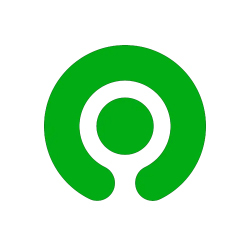 Gojek
These apps are generally reliable throughout Bali, except in certain areas such as the airport, Ubud, and Canggu. Using the apps in these locations requires you to exit the area to get picked up.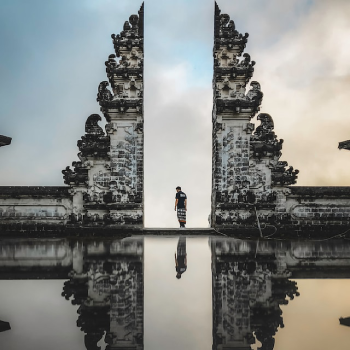 🔥 Very popular
Bali Instagram spots tour
This tour will whisk you away to Bali's most Instagram-worthy destinations!
Check availability
Getting scammed by the corrupt police in Bali is almost unavoidable. Even if you drive carefully, follow the rules, and have all your papers in order, they will still manage to find a reason to stop you and ask for a fine.
Note: Only corrupt police officers carry out scams
Police scams in Bali often happen on the street. Officers will wait for drivers to approach and signal for them to pull over.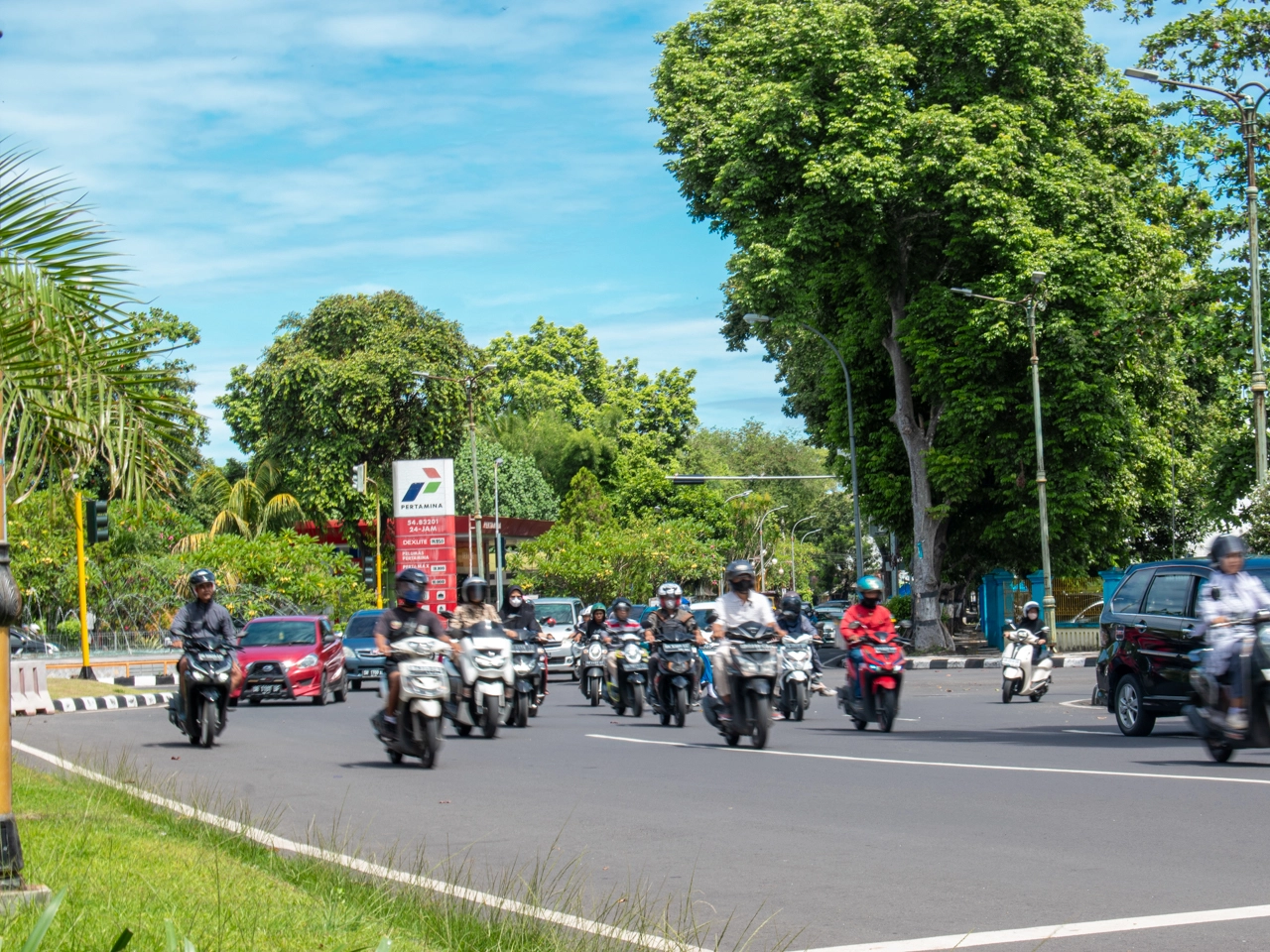 Traffic in Bali
They'll ask to see your documents, like your international driver's license, visa, etc.. And if they can't find a way to get money from you, they may accuse you of something stupid, like wearing sandals instead of shoes, as an excuse to fine you.
There's no way you can get out of this unless you're a local lawyer. The best thing to do is just comply with the police and do what they ask.
You've got two choices: either pay the fine or the police will send you to the office to make it official.
I'm not saying it's right, but a lot of people just choose to pay the fine to get it over with quickly. There's no set amount, but usually locals pay around Rp 50,000, which is about $3.
You know what, there's actually one way you can get out of this situation – just film him. Everything goes super viral in Bali, and he definitely doesn't want to end up being the face of scamming tourists.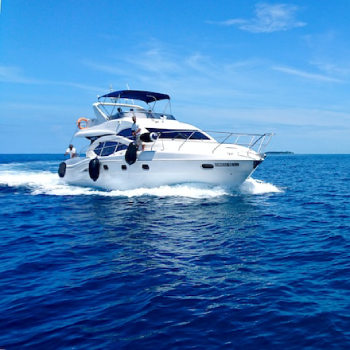 ✨ Trending
Nusa Penida day trip by private boat
A hassle-free day tour to Nusa Penida exploring its stunning landscapes and pristine waters!
Check availability
When shopping in Bali, it's common to come across items with no price tag on them, and as a foreigner, you may end up paying a higher amount than locals.
This is not just limited to foreigners, even locals who kinda look like rich people may face the same issue.
For example, if you're shopping around the streets of Kuta and want to grab a SIM card with data, chances are you'll end up paying a higher price than the locals.
In fact, you may end up paying up to five times the regular price just because you're not familiar with the local pricing.
Tips to avoid marked-up goods scam in Bali
If you don't want to get ripped off, it's best to shop at malls or retail stores where prices are fixed. For SIM cards, look for authorized centers nearby.
When you're at the beach, you'll likely encounter touts who may not be the most trustworthy. They often offer you services without mentioning that you have to pay for them, and then demand payment once the service is complete.
So, let's say you're at the beach in Bali and a tout offers you a massage. After it's done, they hit you with a crazy price for what was essentially a simple rubdown.
Or, another tout comes up to you and puts a bracelet on your wrist without you even asking, and then demands that you pay for it.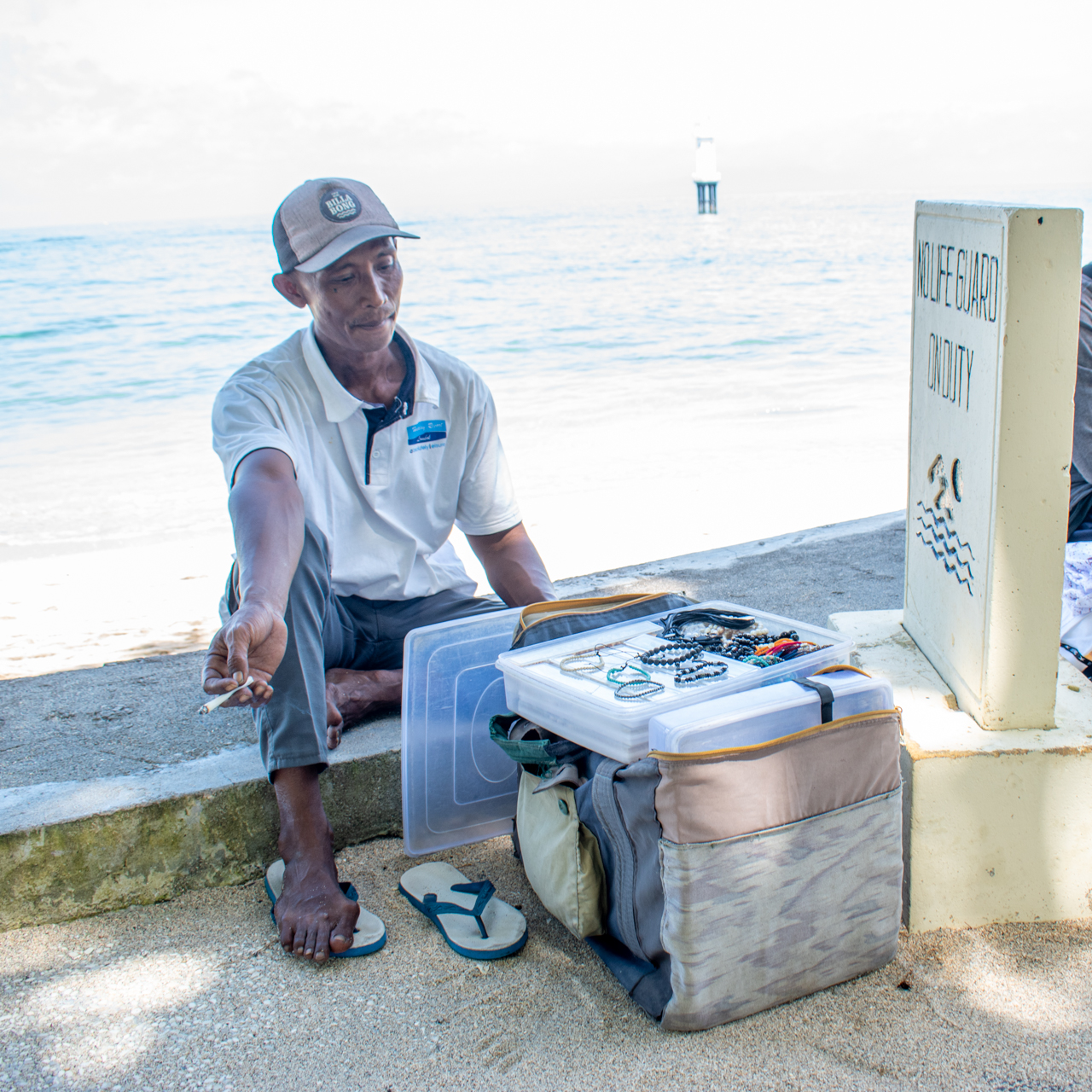 Nice hawker in Bali
There are so many different types of scams that it's hard to list them all. But just remember that everyone's just trying to make a living.
Tips to avoid touts scam in Bali
If you want to avoid getting scammed by touts in Bali, just politely say "no, thank you" to their offers. If you're interested, try negotiating the price upfront so you know what you're getting into.
Finally, there is one scam that really annoys people, and that is the timeshare scam.
It's not necessarily a scam involving your property, but rather salespeople who try to get you to sit through hours-long presentations and pressure you into buying their timeshare.
Here's how it works: scammers approach you on the street and tell you that you've won a prize, like a lottery.
They then ask you to get into a car to claim your prize. Instead of taking you to collect your prize, they take you to their office where they give you a lengthy sales pitch for their timeshare.
Tips to avoid timeshare pitch in Bali
Don't believe it if you're told you've won something you never signed up for, it's likely a trap.